From: Lindi Burk

Sent: Sunday, November 08, 2009 9:46 PM

To: Nancy Glick

Subject: Cocoa

Hi Nancy,

How are you?  I am Soooo Sorry I haven't gotten to you sooner, We have been so busy with school and sicknesses it just seems like passes by way too fast.  I want you to know Cocoa has been the best thing that has happened to our family in along time, he is the most precious gift.  He is so playful and active we just love it.  He's doing quite well in all he does.  Ofcourse he is spoiled he sleeps right in my bed the first thing he does is climb under my covers and lays on my hip he is So Loveable and adorable.  Everybody loves him even strangers who meet him just think he's adorable.  He's up to date on all of his shots and am thinking serious about getting him fixed here this month.  I hate the thought of him being put under he's just like one of my babies so I worry, but it has to be done.  All in all he is wonderful and I am sending you some pictures hopefully this works if not let me know and I"ll try and get my son to help me with it.  Hope all is well with you and God Bless~  Lindi   

As you'll see we dressed him up as an army dog on Halloween and my boys took him trick or treating it was very sweet....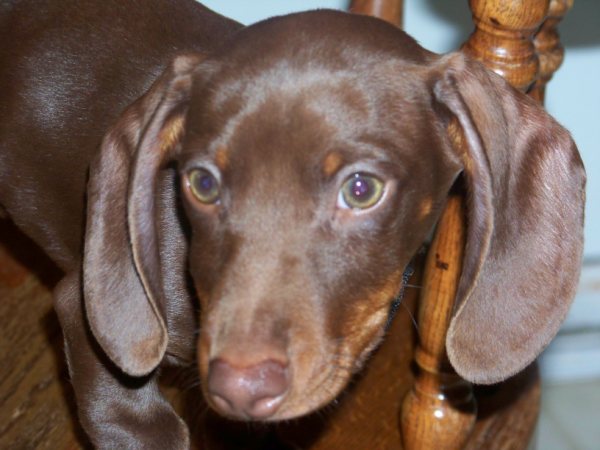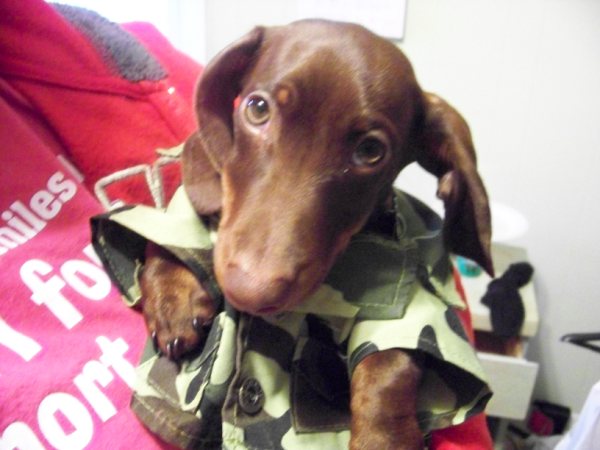 ----- Original Message -----

From: Angela Kershner

To: Nancy ; puppie

Sent: Monday, June 07, 2010 4:03 PM

Subject: Bentley

Hi Nancy,

I just wanted to drop you a line and let you know that Bentley is doing very well!! We have nearly mastered housebreaking and the come command. We are also working on sit, stay, and heel. He is struggling with the heel command because I think he gets over excited :) We have had play dates with two other small dags and he does really well and he loves the attention. He also loves to play fetch with his stuffed animals, it's really cute. I can't picture my life without him and am so pleased that he loves us and much as we do him.

We're having a wonderful time,

Angela, Luke, and Bentley

Attached are some new photos :)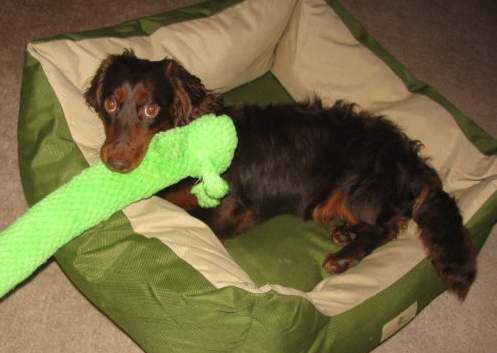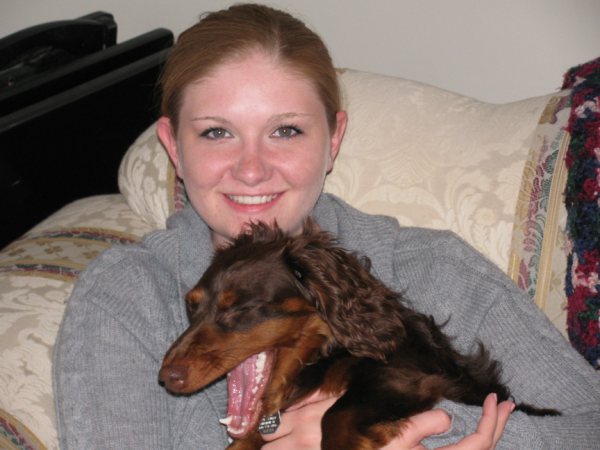 ----- Original Message -----

From: Sara Borland

To: depayne04@hughes.net

Sent: Saturday, August 15, 2009 5:48 AM

Subject: Pictures of Sixx

Hi Nancy - thought you might enjoy seeing some pictures of Sixx since she's grown so much!  She's a wonderful puppy - so energetic, but yet patient with her sisters (our daughters).  She loves her chew toys, running around the yard and sleeping in our bed :)

Thanks for such a great puppy!

Sara Borland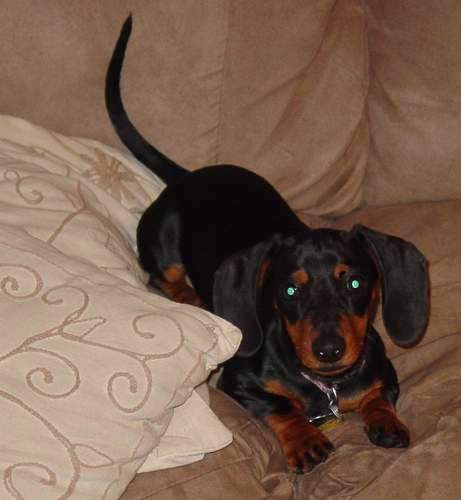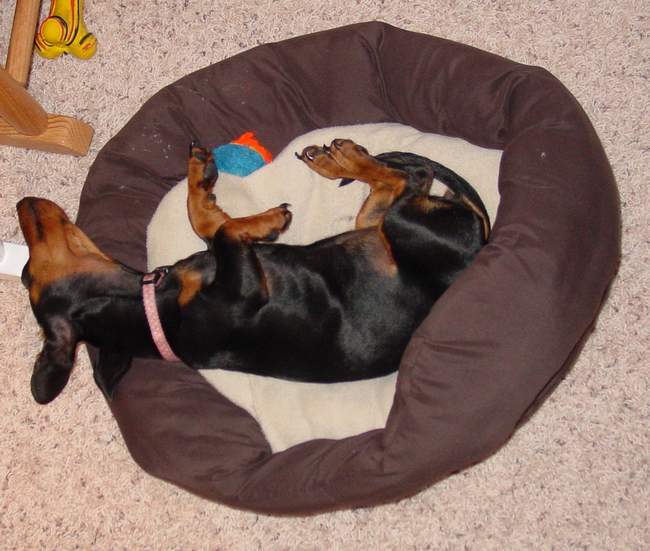 ----- Original Message -----

From: Sara Borland

To: Nancy Glick

Sent: Saturday, March 13, 2010 7:55 AM

Subject: Birthday party

Hi Nancy -

I thought you might enjoy seeing the pictures from Sixx's 1st birthday party :)  Can't believe she's been with us this long.  She's a great dog - thanks!

Sara Borland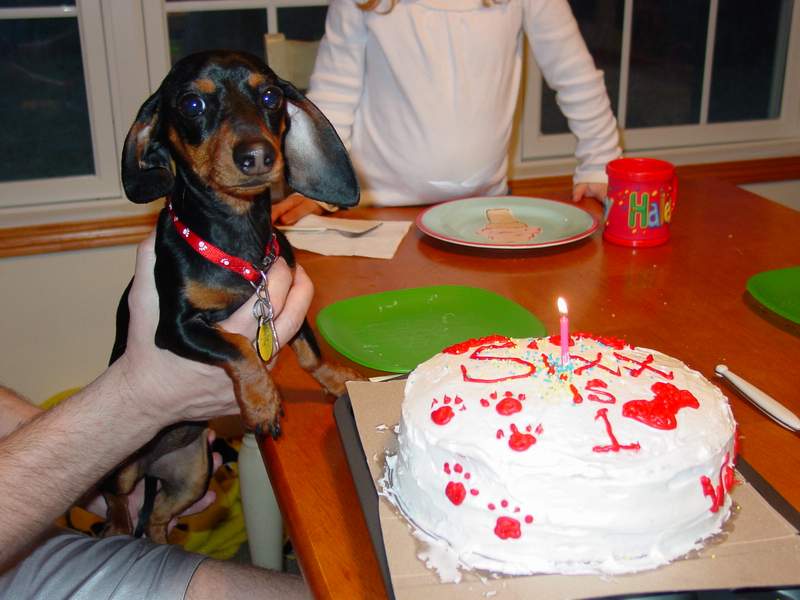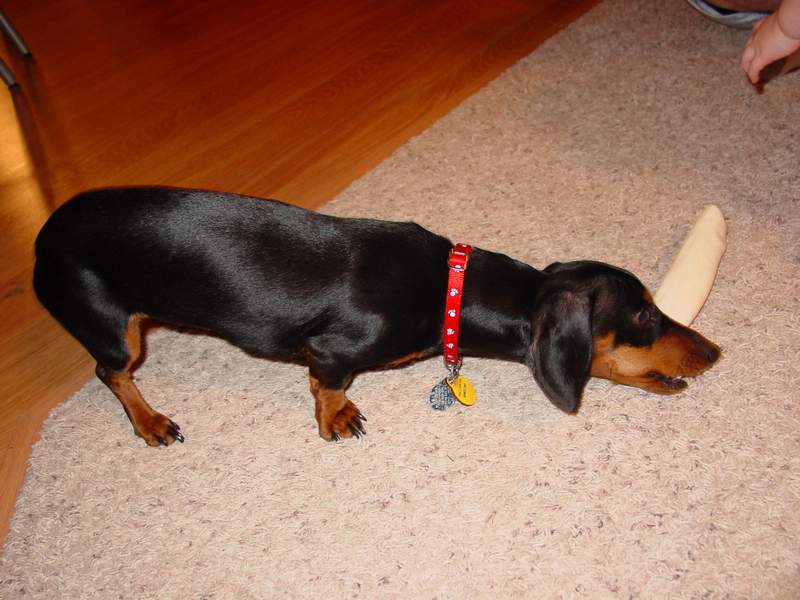 ----- Original Message -----

From: Brooks, Heather

To: depayne04@hughes.net

Sent: Monday, June 01, 2009 9:08 PM

Subject: brewer

Hi Nancy!

Hope all is well!

Brewer is doing AMAZING! He is such a good puppy! He did so well on the long car ride home. We would stop every so often to let him out to go potty and play and then he'd get right back in the car and go right to sleep. He didn't have any accidents on the way home or get car sick :)

He is also doing so well in our apartment. Only two minor accidents.. but we caught him in the act so I think that helped him start to learn:) He wakes up only one time a night to be taken outside. He is such a playful great addition to our lives :)I can't thank you enough for all that you have done and I don't think we could have picked a better puppy :)

I hope all goes well for the new litters.

Heather Brooks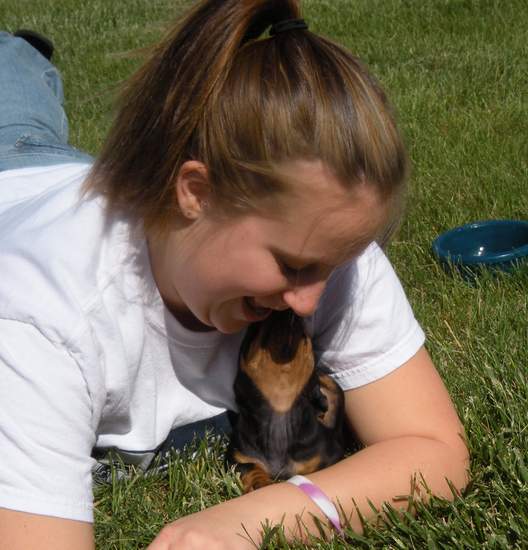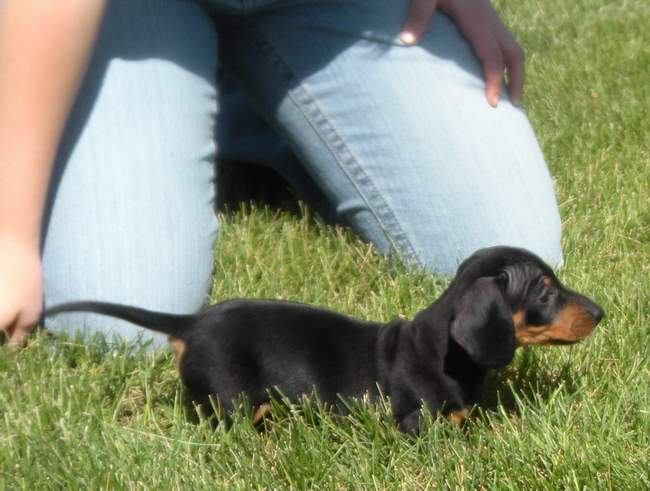 ----- Original Message -----

From: Barb Holm-Ellis

To: Nancy Glick

Sent: Thursday, August 20, 2009 9:27 PM

Hi nancy,

  We took Gracie to the vet today for her first appt.  She weighed 2.7 pounds (she was 2 lbs 13 oz the day she left, which is 2.8 lbs).I say it is the difference in the scales.  she has been eating, but she has been playing and the stress of leaving her siblings etc.  the vet said she looked good!!  no problems.  She praised you for all the good information you provided for them.  Thank you!!!

with school starting and going to see my neice etc, we have not downloaded any pictures, so will get those out this weekend.  i want to edit some of the video I shot and show you with my brother's puppy.  they played hard... I think she might be a little bored today.  they will be back at it in a couple weeks.

thank you again!

Barb and Micaela

On Aug 6, 2010, at 7:04, "Nancy Glick" <depayne04@hughes.net> wrote:

Hi Barb,

Hadn't heard from you in a while. How's everyone doing? How is Gracie Lou? Grown into a wonderful young lady I hope! Not much new here. We're on high ground and haven't drown yet, but definitely soggy most of the time LOL. Pistol will be getting DNA tested shortly. Just waiting for the kit to arrive to get his sample and I'll send you his DNA number for Gracie's records when it comes. I decided to keep Lil since Minnie retired. She is such a butterball! She has her dad's face and eyes and a lot of his mannerisms and Minnie's chubby nature :) Hope all is well with you and your family!

Nancy

----- Original Message -----

From: Barb Holm-Ellis

To: Nancy Glick

Sent: Friday, August 06, 2010 8:36 AM

Subject: Re: How are you?

We are very good and Gracie is beyond awesome!  Will get pics and send, if I can get her to stand still!!!  She is definitely a mam's girl!!!  She sleeps with me and can't stand when the kids try and keep her from me.  Lol

Take care and stay dry!!!

Barb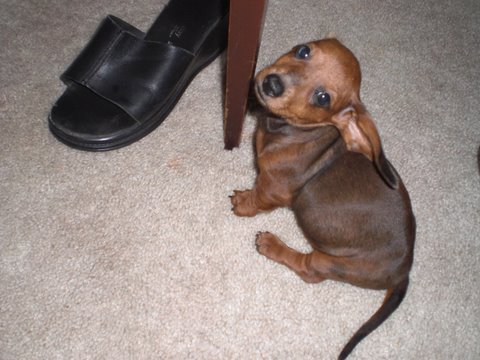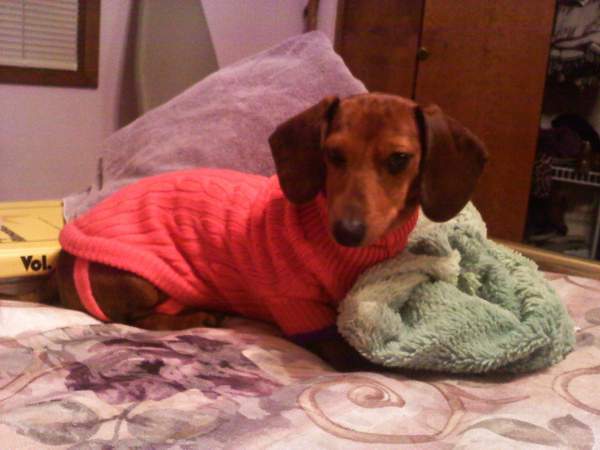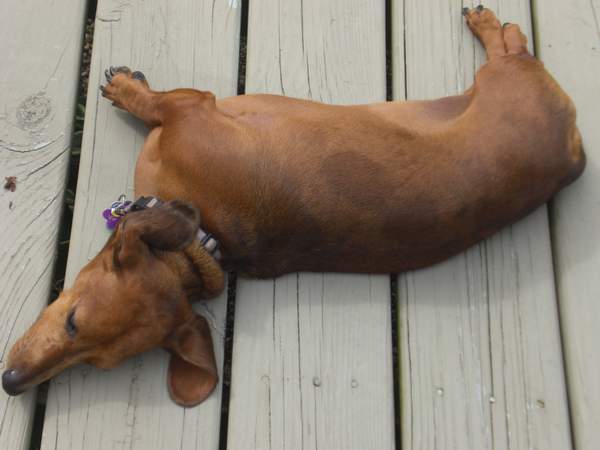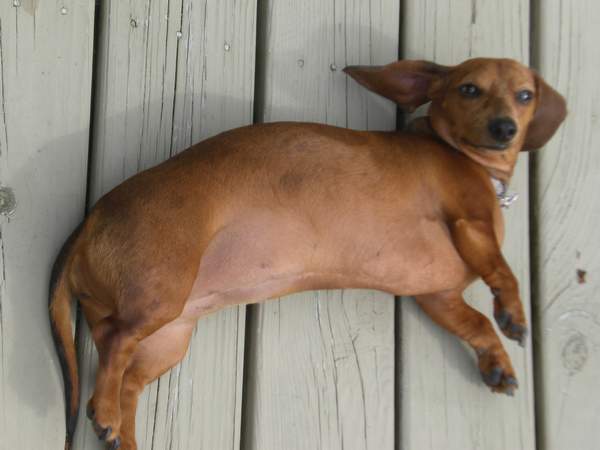 From: Sara Sondermann

Subject: Thank You

To: "Nancy Glick"

Date: Thursday, January 27, 2011, 3:03 PM

Nancy,

I wanted to thank you again for letting us visit your facilities. I always have to visit a breeder's home before deciding if I'd like to purchase a puppy from them, and I was far more than impressed with your kennels and compassion for your dogs. Your breeders are your pets, not just your breeders, and I can tell you love them as much as you love any other dog you own. I can tell by the temperament of your dogs, especially the ones you've had for a long time, that you transfer your calm, pleasant energy to them. I've been to several Dachshund breeders, and yours is the only one where the dogs were all welcoming toward me. Any other facilities I'd visited had dogs that would bark, that were anxious/fearful, that wouldn't let me touch them, that never calmed down as long as I was in their presence. Your dogs were all happy to see me, but didn't become hyperactive and needy for attention. They wanted to be pet, but they weren't demanding; they were open to me and glad to be around me.

A large part of a puppy's personality comes from the parents' temperaments, and I'm extremely pleased with your breeders' temperaments. They will produce calm, confident, sociable puppies. Any buyer will still have to train their puppy, but the first instinctual and genetic step has already been taken for them. I have no doubts about welcoming a DePayne Dachshund puppy into my home. Now that I've seen your place and met you, I would never want a puppy from any other Doxie breeder. I've seen enough to know that I will always come to you when looking to add a member to our furry family.

Once again, thank you so much for proving to me - and anyone else that may stop by - that you are dedicated to what you do. You care about every animal on your property, and you care for them extremely well. You not only allow people to visit your facilities, you welcome them to stop by and check out your breeders. And you never make me feel like I'm a burden for asking you so many questions! You're more than happy to reply to every single E-mail I send you. You know what goes into breeding dogs, and I can tell that. I look forward to working with you further; I know we will keep in touch, even after my DePayne puppy is home and all grown up!

Sincerely,

Sara Sondermann

"Sanchez, Lisa" <sanchezli@knox....>

To:

"Nancy Glick" <depayne04@yahoo.com>

Nancy,

What an amazing little pup I have. By day 3 he is paper trained, cries when he has to go potty if he is being held or someplace where he doesn't have access to his pee pad, and when put in his crate at the end of the day he goes right to sleep and doesn't make a peep until about 7 in the morning. He would prefer to be held 24/7 and does get upset when we leave the room. When being held, he is not at all squirmy like many pups, but melts right to your body and doesn't move. He prefers bottled water to our tap, and likes a half of a Gerber chicken hot dog mashed up into his kibble. We are absolutely crazy about him!

Lisa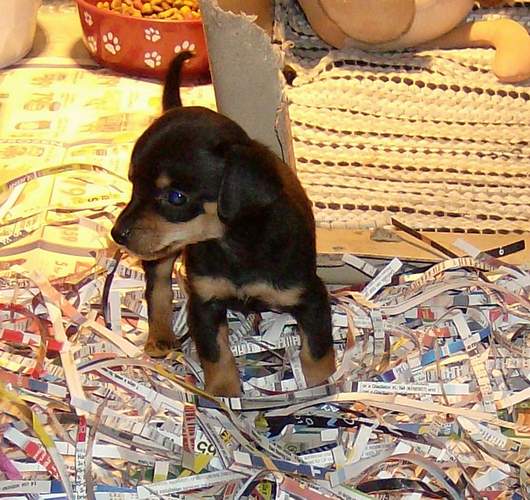 Re: Broken LegsFriday, April 15, 2011 6:46 PMFrom:

"Sara Sondermann" <sarasondermann@..>

To: "Nancy Glick" <depayne04@yahoo.com>

Nancy,

Of course I'll send a picture to you if I can catch it! Right now it's only when she stretches after a nap or something, but sometimes she stays like that for a while, with her legs broken, lol.

Joni already loves being on her back, and sleeping on her back, but she's found a new favorite place to sleep. I'm not sure how she found it, because I didn't teach it to her, but she loves sleeping near necks. When I'm in a recliner, she runs up my torso and sleeps on the back of my shoulders, or half on my shoulder, crammed into the crook of my neck. And in bed in the mornings, she sleeps against our necks/faces. She just loves that area! It's adorable!

I gave her a bath today, and she squealed and complained for the first few minutes. Then she realized how warm the water was, and just loved it! She stopped moving and just stood there, enjoying the warmth. It was hilarious! She started out trying her hardest to run away or get away from the water, and then she just stopped moving to the point where I could take my hands off of her and have her just stand there! She's a riot! I love her so much! I've attached a picture of her drying off after her bath, hope you like it!

Sincerely,

Sara Sondermann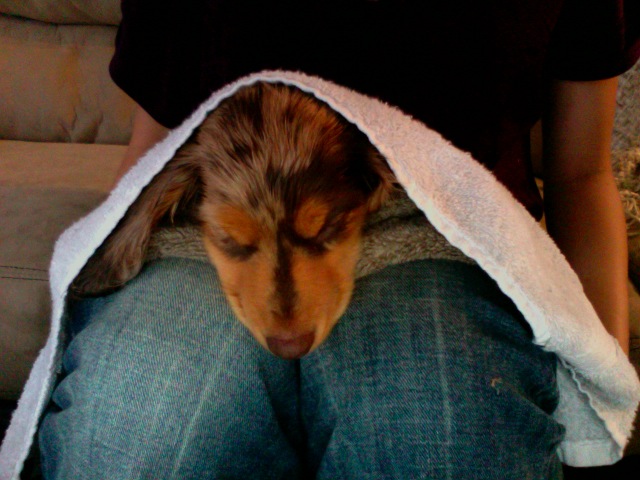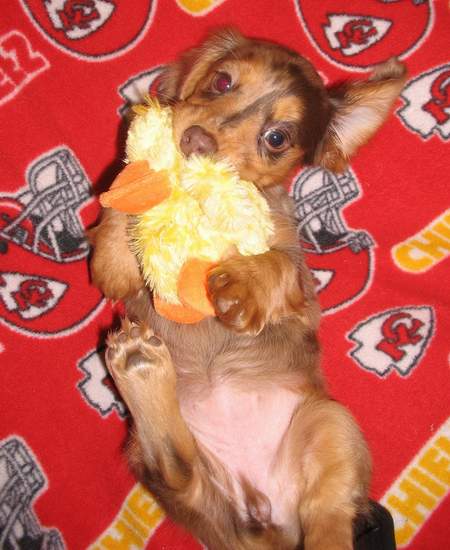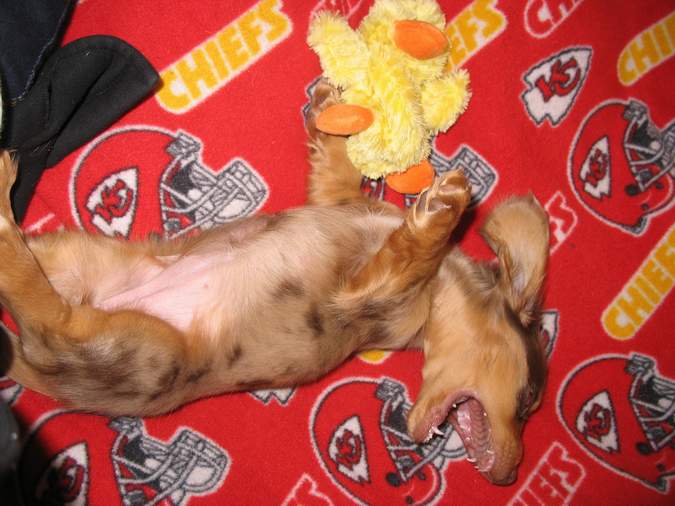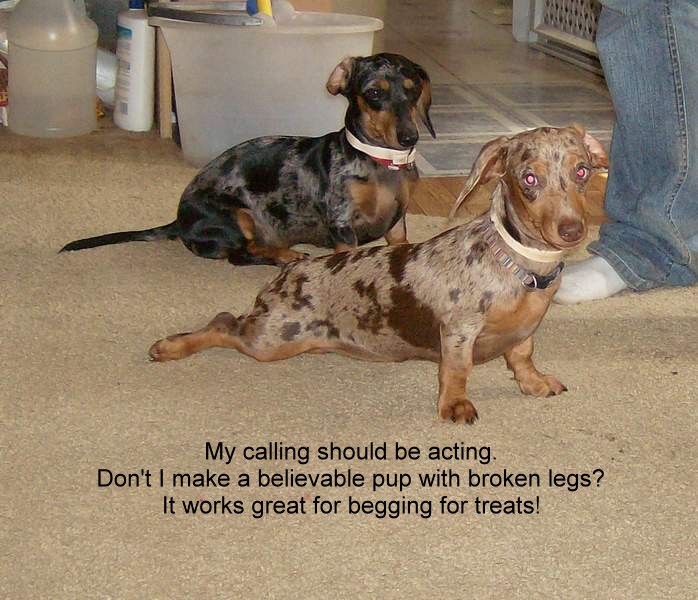 This is Joni's mom Nikki when she was 5 months old doing her "broken legs" trick that Joni seems to have inherited LOL.

All text and images on this site are the property of  DePayne Enterprises LLC and may not be copied or used in any way without the written permission of the owner.

----- Original Message -----

From: Trish DeCoster

To: depayne04@hughes.net

Sent: Thursday, July 28, 2011 12:06 PM

Subject: PJ :)

Hi Nancy,

We're having a ball with sweet little PJ. We are so happy he has joined our household!

Crate training is going well. He willingly goes to his crate at night, and on several occasions has been found resting in there playing with his toys without prompting.  :)  We've had no potty accidents in there so far...

He is eating and drinking well.  Housebreaking is coming along as well as expected. Of course, most accidents are the result of someone not watching his signals or not waiting long enough for him to do his business outside. So...the real training is for us! :)

He and Max are becoming buddies. They play, play, play and run around outside together. From tug 'o war with the rope toy to hide-and-seek (PJ hides under the sofa and waits for Max to find him) they are finding plenty of ways to entertain each other. :)

PJ comes when called. He will wear his collar without protest. We are working on stay and getting used to the leash. He is pretty stubborn about the leash idea. With patience, I know we will get there!

Hope you are well.

Trish :)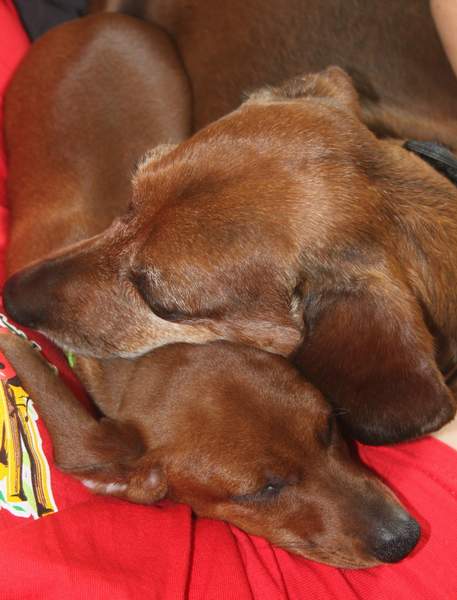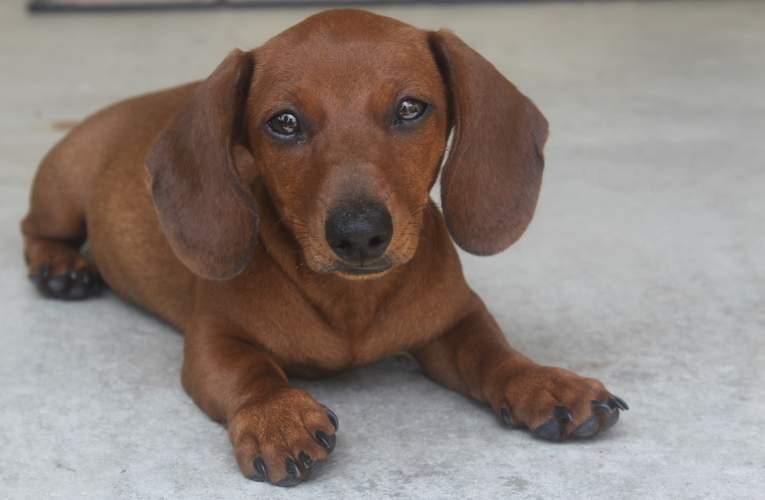 ----- Original Message -----

From: Jessica Helbing

To: depayne04@hughes.net

Sent: Friday, July 08, 2011 10:41 AM

Subject: RE: I need to get you a video

Hi Nancy,

I took Ellie to her vet appointment this morning. She weighs 3 pounds even now! yay! She sure does love her food, but I'm glad she is eating well!

I gave the vet all of the papers with her previous shot records. He gave her one shot today. I told him she doesn't need it yet. That Monday would be the

earliest!! He said it is fine. I didn't want to keep arguing with him, so I finally gave in. I hope he knows what he is doing or I might have to look for another vet clinic!!

He did say she looks healthy, though. I am going for a walk later and I will stop by the post office and mail out a copy of the vet statement from today.

We really love this little pup. She has so much personality and is such a little cuttle bug! She is doing very well. She sleeps in her own little bed and whines when

she has to go out. She has been only getting up one time a night so far. She woke up this morning at 4:30 and I took her out for potty. When I brought her back in she

thought it was play time. She started running around and playing with her toys. I said in a stern voice ELLIE GET IN YOUR BED NOW IT'S TIME FOR BED..She high tailed it

right in her bed and went to sleep. She didn't wake up until 8 this morning. I swear she is half human because she knows exactly what I am saying...LOL She has only

had one minor accident in the house so far, which is really good! She also loves to sleep on her back with her tongue hanging out..haha I took many pics of it. I will send some when I can find my cord for the camera. I might have lost it when moving. I might have to go buy a new one this weekend.

Thanks again for Miss Ellie May we all just adore her to pieces!

Jessica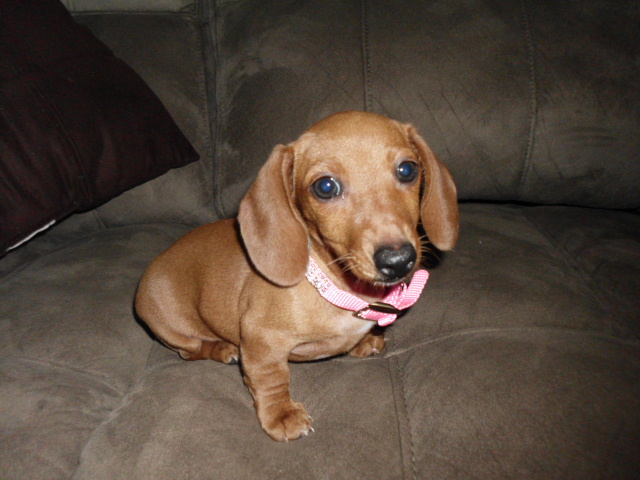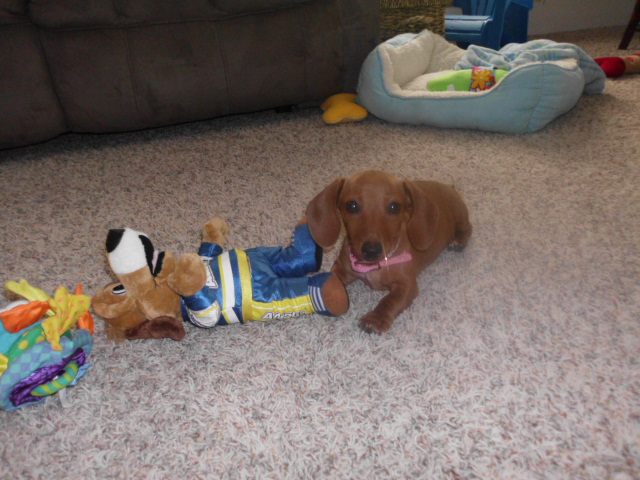 From: Gretchen

To: depayne04@hughes.net

Sent: Friday, November 04, 2011 12:30 PM

Subject: Hi from Emma Claire Meints and family

Hi Nancy,

Emma is now ringing a bell to go outside to use the bathroom.  She was having some potty training issues and a friend told us their dog was easily trained to ring a bell to go out. We kinda rolled our eyes, because if she can't figure out where her potty goes, how can she ring a bell on top of it?!    But she did amazing!  In a few days she caught onto that and it is working great.  I think we might have mastered the entire issue.  She is now out of her kennel more for family time, which makes her happier too.

We love Emma Claire so much!!   See loves us, but she definitely has a preference for her papa!   We were out of town last week and took her with to stay with friends and us.  They had a dog and a cat, and she did great with both. She is still itty bitty!!   I think she is going to be a little dachsie always, but that is just fine.  She is perfect and I'm very happy with out choice.

All the best,

Gretchen, Dave, Zevan, Izak and Emma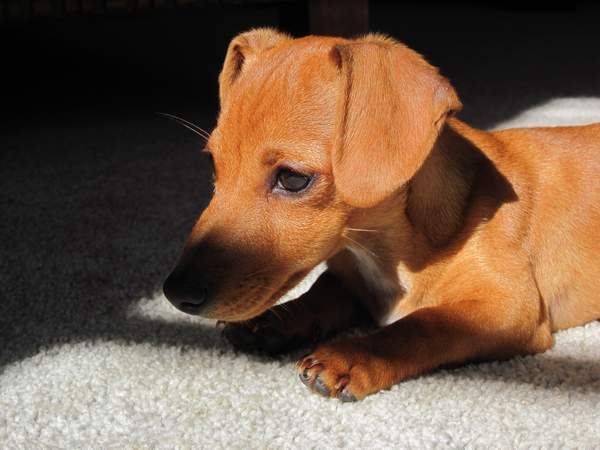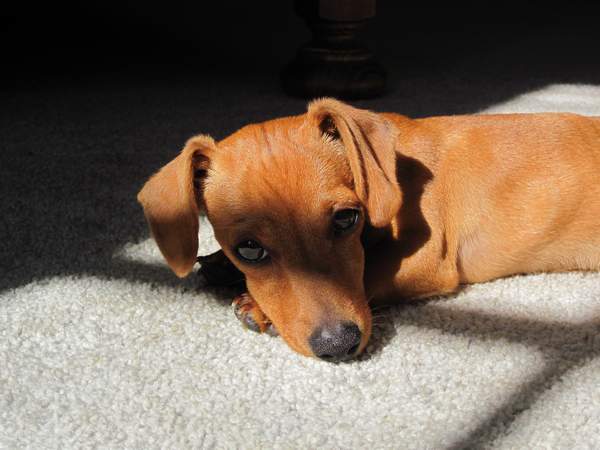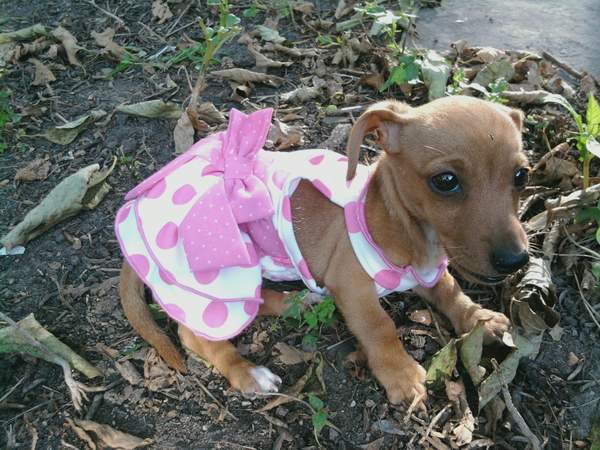 From: MARTIN LINDA ARONOW

To: Nancy Glick

Sent: Friday, August 19, 2011 2:20 PM

Subject: Re: Our pup

Hi Nancy,

I took Kloey to my Vet today (at his office in Des Moines instead of Ankeny).  She weighed in at 2 lbs, 8 ounces!  She is doing great. I attached the letter from the Vet.   I took some cute pictures of her with Cooper today on my phone....I will try to get them onto my computer to send you.  Cooper likes her!

Linda

From: MARTIN LINDA ARONOW

To: Nancy Glick

Sent: Sunday, September 11, 2011 9:12 PM

Subject: Re: Our pup

I realized that the pics I sent did not actually get to you!  Sorry.  Let's try again.  Kloey weighs 3 lb 5 oz most recently and is doing great....feisty!